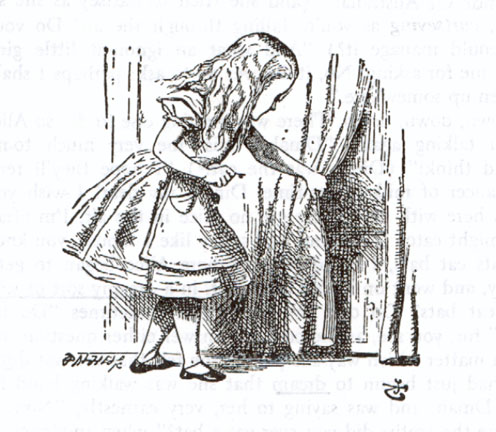 Tim Burton presents a version of "Alice in Wonderland" that is perhaps best understood as a shamanistic tale.
The "Wonderland" of Lewis Carroll is, most literally, "Underland" (the term used in Burton's film) —the lower part of the spirit world with it's irrational and maze-like qualities, which can be visited in dreams while sleeping and when in a trance state while awake.
All pre-industrial cultures tell stories of people visiting the spirit worlds: the lower spirit world by falling down a hole, or down a well, or going into a cave, etc. or the upper spirit world by climbing up a beanstalk, or flying on the back of a bird, or climbing a mountain, etc.
In a shamanistic worldview, the spirit world is where the action really is. What we see in ordinary reality is a result of what goes in in the spirit world. In this kind of worldview, ordinary reality, while real, is actually the illusion.
Shamans enter the spirit world while remaining conscious in order to correct an imbalance there that is causing problems in ordinary reality. They may be trying to retrieve a missing soul part (like "not hardly Alice" who returns to Underland having "lost so much of her muchiness") and/or to do battle with evil forces (as Alice does battle with the evil Jabberwocky on the frabjous day).
"Civilized" writers also tell these kinds of tales or include these themes, although they usually don't know why they do—much like Lewis Carroll who denied any intentional symbolism but also said that meaning often exists beyond the intentions of the writer.
In this case, I suspect Tim Burton (or his screenwriter) has intentionally drawn out the shamanistic elements inherent in the original Alice books. And in any case, I really enjoyed this movie.
 Love your take on Alice, Mr. Burton. And Helena Bonham Carter, who never disappoints, is a special treat as an indomitable, yet acutely vulnerable, Queen of Hearts—a deeply tragic figure who reveals for us all the terrifying consequences of fulfilling our most narcissistic desires and dreams of conquest.