| | |
| --- | --- |
| Posted by Matilda on November 15, 2010 at 11:05 AM | |
I received this lecture invite in the mail some months ago and posted it above my kitchen countertop.  It took a while for it to really sink it, and now it cracks me up every almost time I look at it: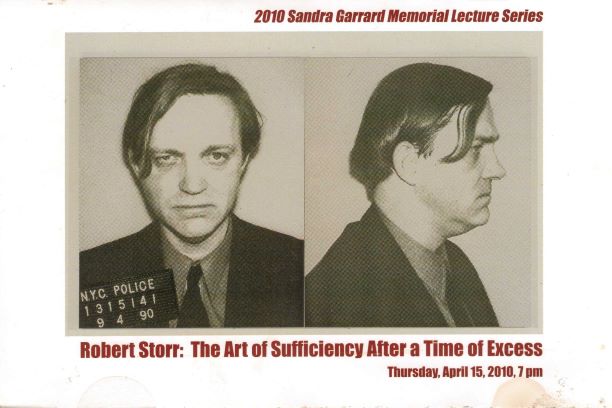 Please note that the arrest occurred in the year that Robert Storr began at New York's Modern Art Museum, where he has remained for over a decade. He is currently an artist, critic, and curator at Yale.
So, apparently "the universe" was able to "secure his attention" with this rather dramatic incident, and "Robert Storr" got his act together in short order.
Pay heed, Neoprimitivists. If there is hope for Robert Storr, there is hope for us all.
FROM INVITE: Robert Storr is an artist, critic and curator who teaches painting and drawing at Yale University School of Art, where he currently serves as Dean. Formerly the Senior Curator of Painting and Sculpture at the Museum of Modern Art in New York where he worked from 1990 to 2002, he was, in addition, the first Rosalie Solow Professor of Modern Art at the Institute for Fine Arts, New York University (2002-2006) and the first American to be appointed Director of the Venice Biennale (2007). His essays and columns appear in Art in America, Artforum, Artpress, and Parkett.  He is author of numerous catlogues, articles and books, including monographs on Louise Bourgeois, Gerhard Richter and Philip Guston. He lectures and contributes to museum and exhibition catalogues worldwide.
cover image:
Deborah Kass
America's Most Wanted, Robert S., 1998
acrylic and silkscreen on canvas
Courtesy of Paul Kasmin Gallery